These are the items currently on my wish list. It's getting ever so long!!
1. Urban Decay Naked Palette (Autumn 2010)
Ever since I saw this on Temptalia, I've been dreaming about it. Look at those amazing neutrals! Also love how it has a mix of shimmery and matte eyeshadows. It also comes with a double ended 24/7 liner pencil - zero (black) on one end and whiskey (rich dark brown) on the other, and a mini UDPP. Hope I can get my hands on this palette. I don't think there's any Urban Decay in Hong Kong :'( I believe this is being released tomorrow in the US!
2. Viva La Juicy/ Juicy Couture perfume
Believe it or not, I only smelled this for the very first time yesterday when I popped into the Juicy store! I'm not even sure if it was the Viva La Juicy (pink bow) or the original Juicy Couture perfume.. whatever it was, it smells heavenly! I couldn't stop sniffing my arm all day. It's sweet and fruity at first, but dries down to a warm vanilla scent. I can still smell traces of it today. Talk about great lasting power!
3. Dior Bronze Libertine nail polish
Part of the AW 10 collection, this colour is a beautiful bronze with gold shimmer. Want want want!!
4. Chanel Paradoxal nail polish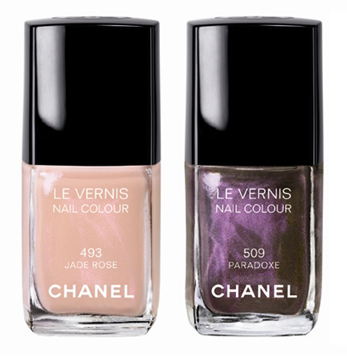 Part of the AW 10 collection, this colour (the bottle on the right) is a complex purple-grey with slight shimmer, that looks different in different lighting.
4. NARS Earth Angel eyeshadow duo
I always swatch this duo at NARS counters but always talk myself out of getting it, simply because I was unsure about whether I would actually ever wear the green shade, as gorgeous as it is. However, now that I've worn MAC's Sumptuous Olive and find it quite flattering on my eyes, I might actually get this NARS duo. I also like how the green shade is paired with a purpley shade - an unlikely pair that I imagine would look gorgeous paired together on the eyes.
So those are the items I've recently added onto my wish list! To be honest, my list is a lot longer than this but I've decided to just post about the ones I really really want at the moment :P xxx